There exists one single Enchantimals doll that is custom made for its owner by Mattel in celebration of an event. Like in other franchises prior, this branch of dolls are one of a kind, but generally recycle the head mold and/or accessories. The dolls are official, but the characters they represent are not.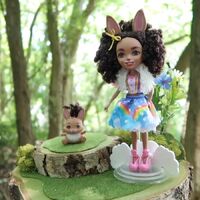 Tiana is the face of the Toys AndMe YouTube channel, which specializes in making reviews of toys, candy, and other child-relevant topics. One of their unique video types are egg hunts that document Tiana completing a course wherein she is to find plastic eggs containing toys of one single brand per egg hunt. On July 06, 2017, an egg hunt for Enchantimals was uploaded. This egg hunt was sponsored by Mattel and included a custom made doll inspired by Tiana using the Bree Bunny/Fluffy Bunny mold and accessories, including a custom adaption of the Twist/Mop figurine.
External links
Edit
Ad blocker interference detected!
Wikia is a free-to-use site that makes money from advertising. We have a modified experience for viewers using ad blockers

Wikia is not accessible if you've made further modifications. Remove the custom ad blocker rule(s) and the page will load as expected.