Second to the cartoon is the Enchantimals stop motion series utilizing the dolls. These are also uploaded to the Enchantimals YouTube channel and the video portion of the Enchantimals website. The stop motion shorts are a little over a minute long and relay mostly simple stories.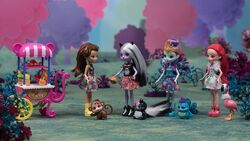 On May 19, 2017, Mattel uploaded the first two webisodes; one starring Bree Bunny and the other Patter Peacock. Shorts for the other characters followed in the weeks thereafter until most but not all characters had starred at least once.
Ad blocker interference detected!
Wikia is a free-to-use site that makes money from advertising. We have a modified experience for viewers using ad blockers

Wikia is not accessible if you've made further modifications. Remove the custom ad blocker rule(s) and the page will load as expected.